President: Sean Young
Vice President: Mailinh Truong
Treasurer:Andy Chang
 Secretary: Allison Cheng
Email: seansyoung@yahoo.com
Team HBV T-Shirts in partnership with MIT's Collegiate Chapter!
My Co-President Sonia Targ has a sister who is part of the MIT Collegiate Chapter of Team HBV, so she helped us design T-shirts and sweatshirts which happened to also be the Jade Ribbon Campaign gear that MIT members sold to their community.
We sold many to our friends and other people in the Paly community, as well as a couple to Diana Ngo, who works at Stanford's Asian Liver Center.  We did this in order to make a bit of money for our club funds since we were running out.
It was a pretty fun experience and there were over 10 colors to choose from, so distribution was a bit complicated but it was a great way for us to branch out.  We also discovered that T-shirts are a great way to spread awareness of Hepatitis B and its effects since many people wore the shirts and other people could read them and learn about the disease.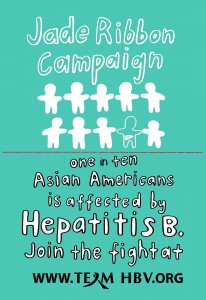 Implementing Hepatitis B in AP Biology curriculum at Paly
This year, I took AP biology at Paly, so my sister, who just graduated from MIT in June put together a virus article and a worksheet to go with it that I could suggest to the bio teachers.  The assignment fit in perfectly with our class's virus unit, so Mr. Olah put it on our class website for review purposes and for the students to gain a clearer and more in-depth understanding of viruses.  I think that this was a really good idea because people have much greater knowledge of diseases such as Sickle Cell Anemia and AIDs, but not much about Hep B, because of varying level of discussion of such diseases in the classroom.  Implementing the virus and Hep B assignments in the future would truly increase widespread awareness of the disease and more interest.