Bellaire High School, Houston Texas
President: Anusha De
Vice Presidents: Alex Ho & Emily Pan
Email: anushade98@gmail.com
Like us on Facebook!
https://www.facebook.com/BellaireTeamHBV
2014 Summer
Our chapter was officially approved by the school at the end of the previous school year. To start gaining club interest and raising awareness, we created a Facebook page where Hepatitis B and Team HBV information was posted weekly.
By the middle of the summer, our Facebook page was able to reach 100 likes!
Two weeks before school started, a facebook group for Team HBV Bellaire HS Chapter members was posted on the Facebook Page, and prospective members were invited to join.
2014-2015
First Day of School
To bring in the first day of school, we made about 120 cupcakes and walked around school passing them out, along with an HBV brochure and card for prospective members to fill out.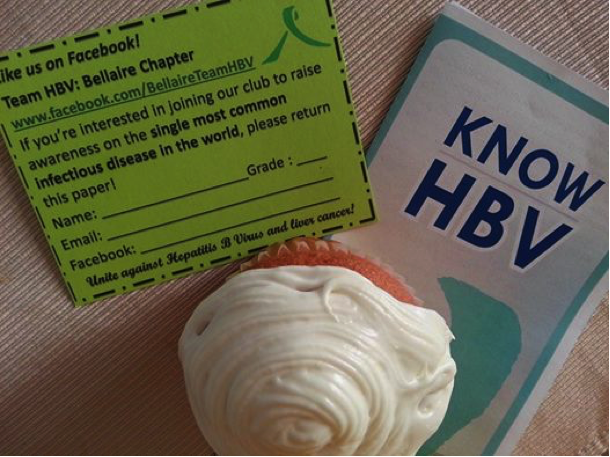 #JoinJade Dinner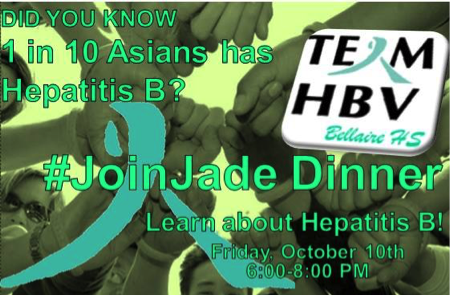 To educate new members on the must know awareness information about Hepatitis B and Team HBV's goals, a dinner was held.  New members watched Chandana Golla, who had previously gone to the Youth Leadership Conference, give an educational presentation with fun videos. You can look through the powerpoint here.  After the presentation, the new members ate dinner together and talked about potential awareness efforts.

Houston Korean Festival Team HBV Awareness Booth
We were able to get approval to hold an awareness booth at the Korean Houston Festival, the largest Korean Festival in the south.
To prepare for the event, we spent two weeks before putting together materials and brainstorming how to make the event as effective as possible. To attract attention to our booth, we decided to offer face painting and a ball tossing game. The directions of the game were simple. The player had three opportunities to toss a ball into one of the holes of our game board we created. If the player missed all of them, the player still got one lollipop, and if the player got at least one of them into the holes, the player got an extra lollipop.
The ball tossing game was called "3 shots, 1 life!" in reference to the game itself and Hepatitis B vaccinations. We "branded" lollipops with our chapter's logo and Team HBV information to give to the players.
Members worked hard to put together around 100 of these lollipops, create posters, fold"Know HBV" brochures in English and Korean, and create the ball tossing game.
The event was a huge success! We were able to have some great conversations about Hepatitis B.  The members had a great time, and we were even able to celebrate one member's birthday.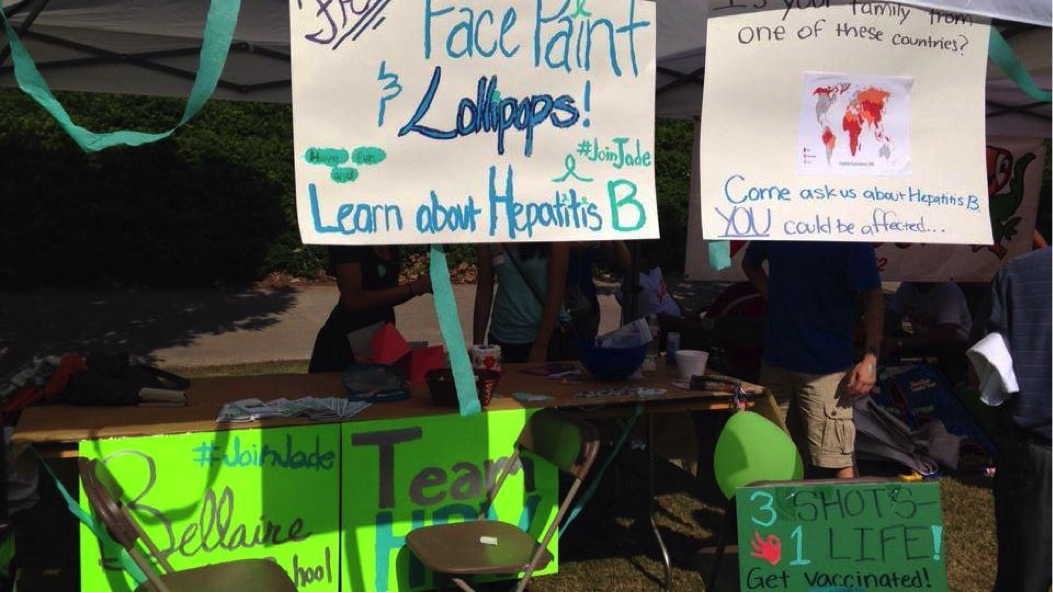 In addition, a member was able to get interviewed by local Vietnamese TV channel that had come to cover the Korean Festival!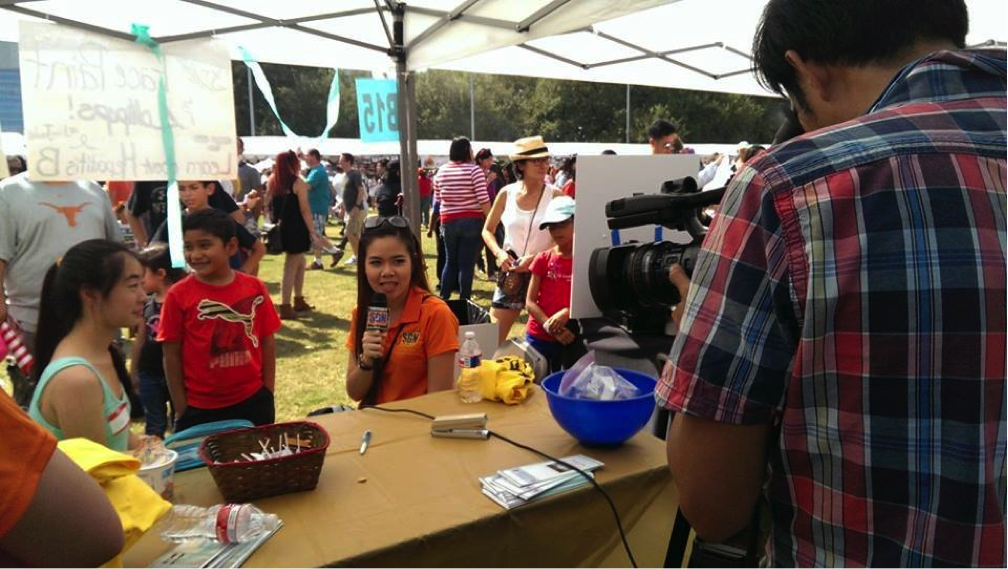 Chinese Talent Show Team HBV Booth
Our school has a large and thriving Chinese Department.  We decided to hold an awareness booth at their annual cultural show. We passed out brochures (in Chinese and English), cupcakes with the Jade Ribbon, and lollipops.
It ended up being a great event to raise awareness at as many of the student participants were Asian, and several of their parents came to watch.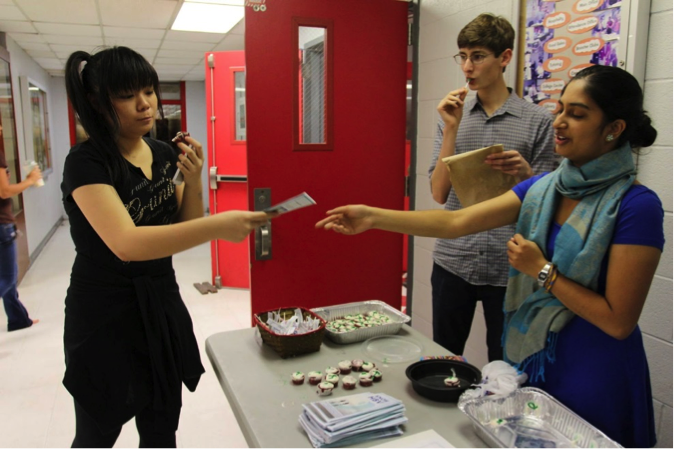 Outreach Committee Event
Members Chandana Golla and Yucheng Dai were part of an Outreach Committee that worked with teens all over the nation to plan an outreach event to execute in their community.  To advertise the event, we put up posters around school a week before the event and promoted the event on social media.
Individuals donated money- in exchange for each dollar they donated, they were able to sign a poster and get a pin or tattoo. During lunch, club members manned a table where they raised awareness by passing out brochures and accepting donations. For a week, members held this table during a lunch, and during the rest of the day, members traded the poster between members so that they could accept donations and raise awareness during down time in class periods.
It was a great way to wrap up the first year of the chapter; we hung up the poster we created in a hallway.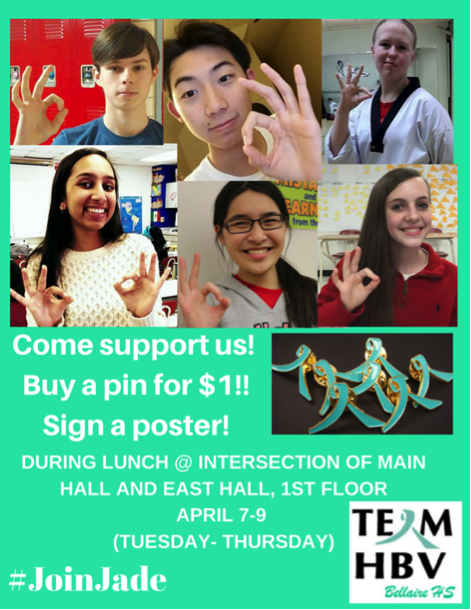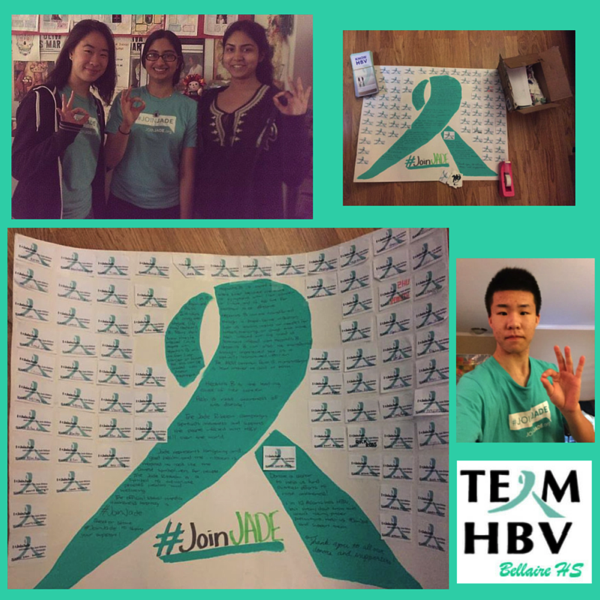 Social Media Campaign
As part of the Team HBV International Chapters semester theme "Where Is Your Family From?", we took dozens of pictures of people within our community.  To keep awareness up during the summer, we decided to use the pictures as part of a social media campaign.  The pictures were used to create a series of collages with Hepatitis B awareness information which were posted on our facebook page weekly, with the campaign ending on International Hepatitis Day!  The campaign was especially successful because we were able to tag all the people in the pictures which caused the awareness collages to pop up on their timelines and reach more people overall.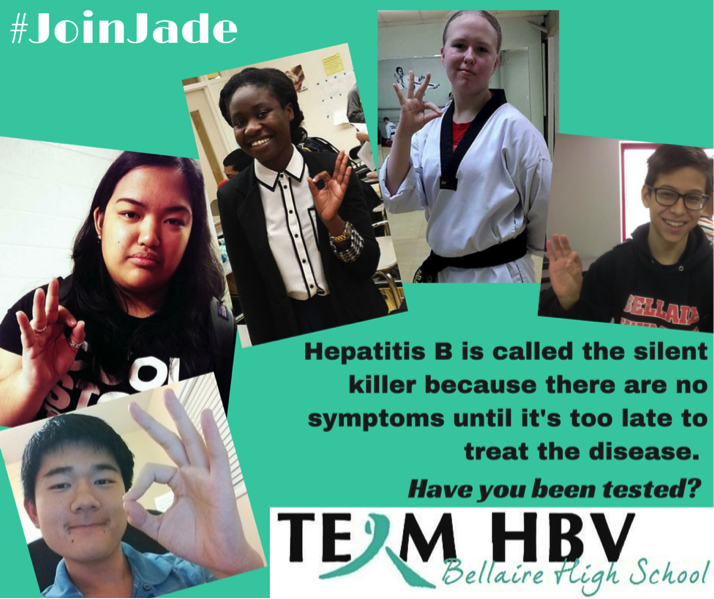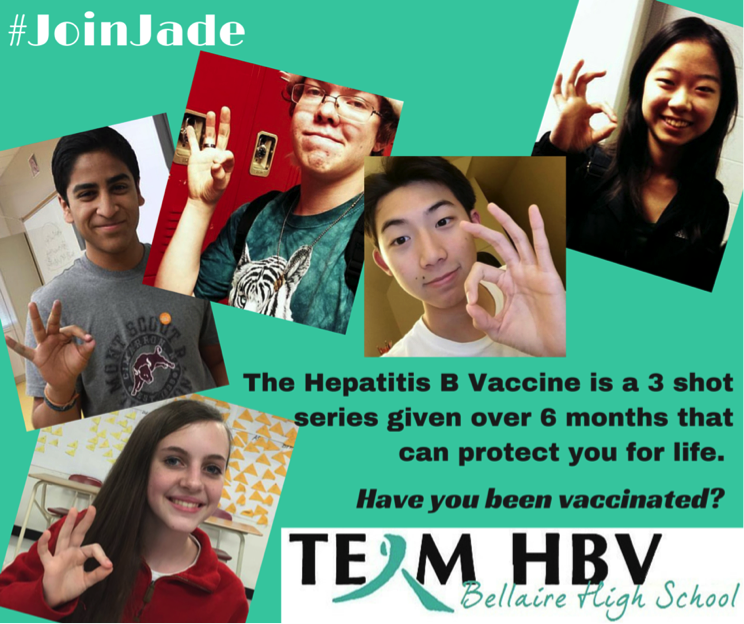 2014-2015
Club Jamboree
To kick off the beginning of a new year, we held a table at our school's Club Jamboree where people advertise and promote clubs to incoming freshman.  We were able to get some new students interested in Team HBV, and they gave us their information on google docs form we had set up.