B-Aware, Cornell's Chapter of Team HBV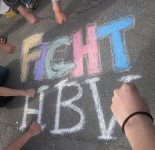 B-Aware is the founding chapter of the national organization Team HBV Collegiate Chapters, affiliated with the Asian Liver Center at Stanford University. We aim to raise awareness about the hepatitis B virus (HBV), a completely preventable disease that still causes 80% of all primary liver cancer cases worldwide and leaves 350 million people chronically infected with HBV. Furthermore, due to a lack of symptoms, many do not know they are infected with HBV, with 1 in 10 Asian-Americans and Pacific Islanders chronically infected for life. B-Aware aims to organize engaging events to educate people about HBV, help raise money for HBV vaccinations in China, and come up with different ways to do outreach for our cause. Please join us in our fight against hepatitis B!
Executive Board Members (Fall '12 – Spring '13)

Chris Zheng | Co-President
Cornell College of Arts & Sciences 2014
Biological Sciences, Pre-Med
Email: czz3@cornell.edu
I initially joined B-Aware in my freshmen year to diversify my extracurricular activities, which also include the Peer Review Board, a judicial body for the Cornell housing system, the North Campus Program Council, whose aim is to plan and execute entertainment events for the Cornell community, and CAPSU, an Asian interest group aiming to bring greater cohesion among the A3C communities. At B-Aware, I found a well-established and intercollegiate organization that has helped me learn the value of social activism. I have always been aware of public campaigns focused on certain health issues, such as those fighting breast cancer or defeating autism, but it was only after joining B-Aware and the Team HBV organization that I felt that I was really making a difference, especially on an issue as important as hepatitis B.
The fact that Team HBV was first started by a student at Cornell and now spans over 16 college campuses across the United States has really allowed me to see the impact that student-run organizations can contribute when working towards the same goal. That is why I am confident that with our actions at B-Aware, and with the support of the Team HBV organization, we can do our part to help raise awareness of hepatitis B.

Yufei Chen | Co-President
Cornell College of Human Ecology 2013
Human Development, German Studies Minor
Email: yc496@cornell.edu
When I was in second grade, my friend's father died from hepatitis B. I don't remember much about it other than the general sadness that my friend and his mother endured. Kind inquiries from classmates some times sounded a lot like prying: "How did your dad die again?" "Oh I didn't know people can die from hepatitis B!" "Are you sure it wasn't liver cancer?" etc etc..
I was really surprised and glad to see that there was a group dedicated to hepatitis B in the A3WR my freshmen year and it was right there that I decided to join. Even though the focus at B-Aware is relatively narrow and doesn't have much to do with my area of study or future career interest, my involvement in B-Aware has been especially rewarding, having learned a lot more about the viral disease as well as having plenty of fun with fellow B-Aware members. If there is one thing about B-Aware that I love the most, it is our virus plushies!

Heming Zhao | VP of Campus Outreach
Cornell College of Engineering 2015
Biological Engineering, Pre-Med
Email: hz226@cornell.edu
I joined B-Aware because hepatitis B is very prevalent in the Asian population, a population that I care deeply about. And because HBV infection is entirely preventable with vaccination, I felt it was necessary to join in the effort to raise awareness and educate people about the facts of hepatitis B. I expect to work with an excellent group of E-Board and G-Body members to help reach out to people and get them to be more involved through donations and more aware of ways to prevent the spread of this disease. I am pre-med, so I am definitely thinking of attending medical school and becoming a doctor in the future. Being a part of B-Aware has provided me a platform to work and gain valuable experience in a medically related field. Overall, B-Aware is an excellent club with a great cause.

Andrew Huang | VP of Community Outreach
Cornell College of Arts & Sciences 2014
China and Asia-Pacific Studies, Health Policy Minor, Pre-Med
Email: awh65@cornell.edu
The most valuable experience I've had with B-Aware and Team HBV is being part of a national network of college students and medical professionals that are all dedicated to helping raise awareness of hepatitis B. For me, what makes hepatitis B outreach so exceedingly important is that most deaths due to chronic hepatitis B infection could have been prevented by something as simple as convincing someone to get an early blood test. So for hepatitis B to be disproportionately affecting Asian-Americans and Pacific Islanders, I feel personally invested in the work that B-Aware and Team HBV does in encouraging people to get tested and be aware of their infection status.
This summer I've had the opportunity to work with viral hepatitis groups in NYC and, with support from Team HBV, helped coordinate a World Hepatitis Day event in NYC. And even though I will be studying in Washington D.C. this fall, I plan on staying involved with B-Aware at Cornell and will continue to push for hepatitis B outreach on a federal level as I pursue an internship at the White House Initiative on Asian-Americans and Pacific Islanders.

Jeffrey Sung | VP of Publicity / Recruitment
Cornell College of Arts & Sciences 2013
Biological Sciences, Pre-Med
Email: js987@cornell.edu
I joined B-Aware to follow a number of interests and devotions. As an undergraduate researcher, I have done a few years of research on viruses, and always enjoy learning more about the molecular and epidemiological aspects of hepatitis B and related hepadnaviruses. Hepatitis B and C are prevalent throughout the world, and serve as model diseases for prevention and vaccination. More importantly, I was born and raised in a Chinese neighborhood in New York City, and I am driven to give back to the community that raised me. Hepatitis B is a major problem for Chinese immigrants, and I have seen some of the late-onset effects of this "silent killer" firsthand, through clinical volunteerwork in my hometown and the greater New York area. Screenings, knowledge and prevention have been key to reducing its spread, and treatments can keep chronically infected individuals from dying of the disease.
B-Aware has been a great way to contribute to health awareness in Cornell, learn about a relevant disease, and connect with other pre-meds, sciences majors, and others with similar interests.

Helen Tian | Treasurer
Cornell College of Arts & Sciences 2014
Biological Sciences, Pre-Med
Email: hst26@cornell.edu
Hepatitis B is one of those diseases that are very preventable, yet still extremely widespread. I joined B-Aware with hopes of raising more awareness about this issue at Cornell in order to get our community more involved in preventing the spread of hepatitis B. I have been involved in liver cancer research for the past few summers, so this is an organ I am familiar with and would like to learn more about! I'm excited to work with the B-Aware members in planning our fundraising events and raising awareness about our cause, and I'm looking forward to meeting new B-Aware members!

Angela Cai | Secretary
Cornell College of Engineering 2014
Biological Engineering, Pre-Med
Email: ac699@cornell.edu
Before joining B-Aware, I was only vaguely aware of the Hepatitis B Virus. After learning more about HBV, I realized there were probably a lot of people like me, who were unaware of the seriousness of this health issue. But more people die from liver disease than from HIV even though there is a vaccine for HBV! Besides being influenced by the really cute virus plushies, I decided to join B-Aware because, as an Asian American, I felt it was very important to spread awareness about HBV and encourage vaccination. B-Aware definitely fits in with some of the other organizations I am involved with, which include Operation DEEP, Cornell Hunger Relief, and Alpha Phi Omega, all of which are great causes. I am excited to take part in raising awareness about hepatitis B and hope to learn more about the virus.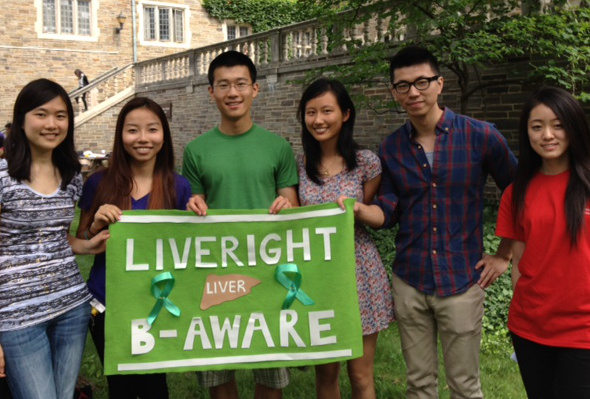 If you have any questions or are interested in joining B-Aware, please feel free to contact us individually or email us at cornell@teamhbv.org. Also check out our past Cornell E-Boards here.
Events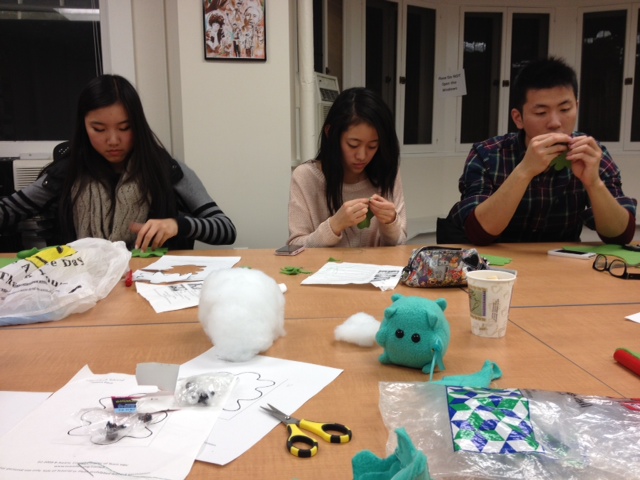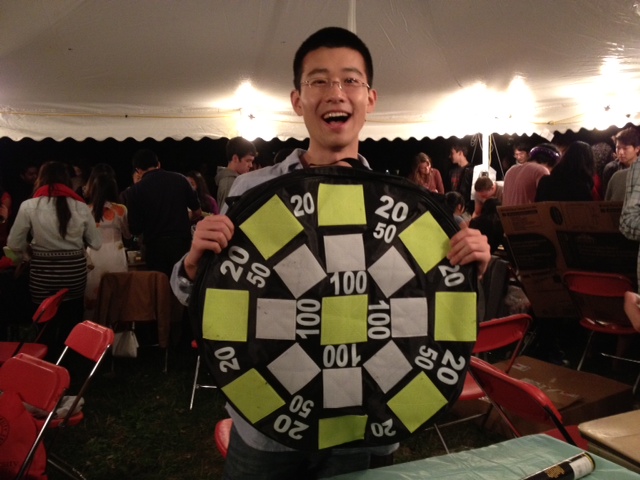 Fall 2012 – Clubfest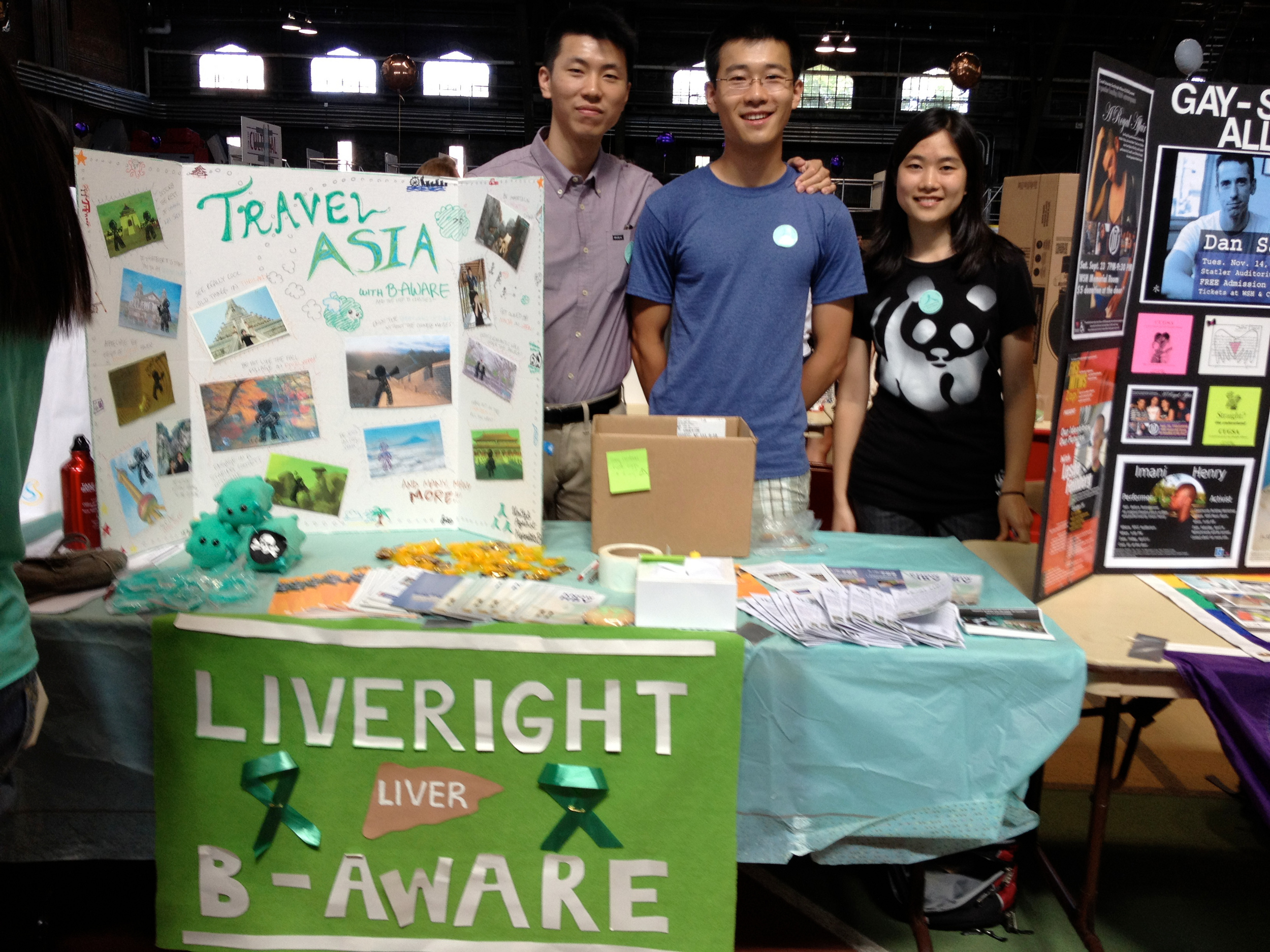 Spring 2012 – Badminton Tournament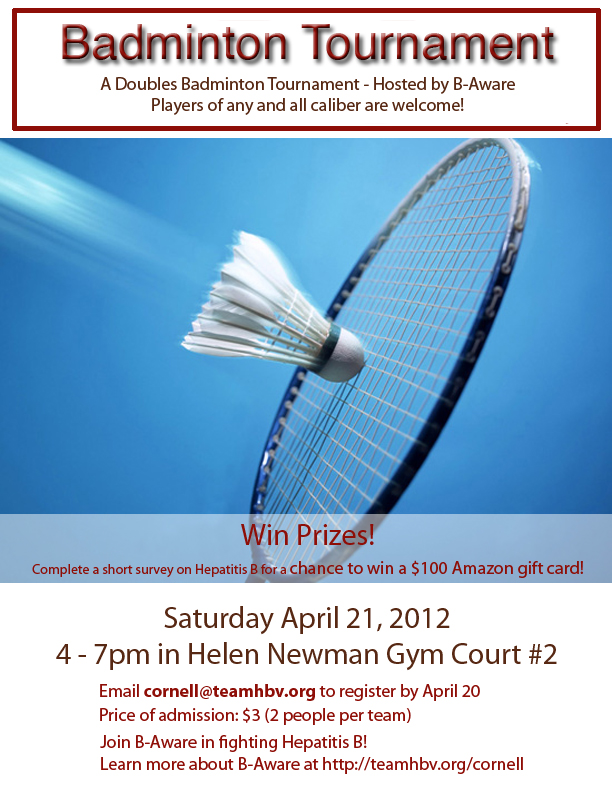 Fall 2011 – Mahjong Night