Absolutely everyone can identify with a record attempt, no matter where you're from, what language you speak, or how old you are. A record attempt is about setting ourselves a seemingly impossible goal and showing the determination to achieve it. Hence, the World Hepatitis Alliance organized the Guinness World Record attempt to celebrate World Hepatitis Day 2013 (July 28) by having the most people performing the "see no evil, hear no evil, speak no evil" actions in 24 hours at multiple venues around the world. Over 100 people showed up to both NYC and Boston attempts, and 50 people showed up in the San Francisco attempts.
These actions relate to a proverb known as the three wise monkeys covering their eyes, ears and mouth. There are many meanings attached to the proverb, but mostly it is used to refer to those who deal with problems by refusing to acknowledge them. This theme was chosen to highlight that, around the world, hepatitis is being ignored.
National & International Efforts
New York City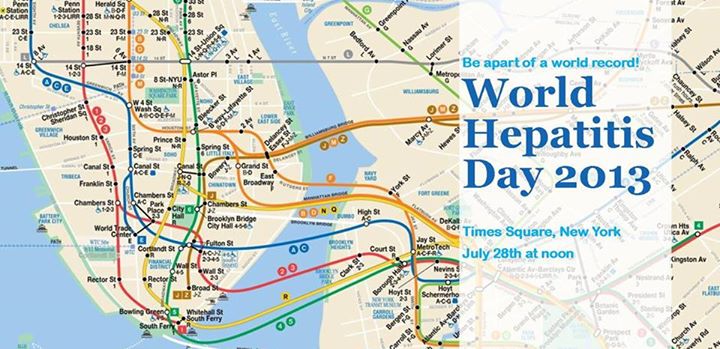 CALLING ALL VOLUNTEERS!
VOLUNTEER FOR NEW YORK CITY-WIDE WORLD HEPATITIS DAY- Sunday, July 28th
Viral hepatitis is a silent epidemic in the United States. Every year, thousands of Americans die from liver cancer or chronic liver disease associated with viral hepatitis. In NYC, approximately 100,000 people are infected with chronic Hepatitis B, and 148,000 are infected with Hepatitis C. Despite these statistics, viral hepatitis is not well known; in fact, as many as 75% of people with chronic viral hepatitis do not even know that they are infected.
The NYC Hepatitis B Coalition and NYC Hepatitis C Task Force are organizing a two-part awareness campaign for World Hepatitis Day on July 28th, with events taking place across all five boroughs of NYC to bring attention to this silent epidemic. Volunteers may participate in one-part of the awareness campaign or both!
Sunday, July 28th
Part 1 (10AM): Hepatitis B & C Awareness Campaign in the 5 Boroughs
Volunteers will…
Meet at the location they signed-up for the mobile awareness campaign
Receive a "Love Your Liver" t-shirt
Hold signs up
Distribute flyers to people in the street
Finish around 11:30AM
If participating in Part 2, will travel on the subway to Times Square
Part 2 (Noon): Times Square FREEZE Mob (Guinness Record Event)
Volunteers will gather in Times Square to take part in a Guinness World Record attempt for most number of people around the world performing the "see no evil, hear no evil, speak no evil" hand gestures in an attempt to break our own record from last year (60 people in NYC and 12,588 people world-wide).
Volunteers will…
Meet at Times Square at the red steps in Duffy Square by the TKTS Booth (Northern end of Times Square between West 47th & 46th St, between Broadway and 7th Ave)
Receive a "Love Your Liver" t-shirt (if did not participate in part 1)
Perform the "see no evil, hear no evil, speak no evil" hand gestures
Finish around 1pm (lunch is NOT provided)
If you'd like to participate in NYC World Hepatitis Day — please sign-up here. Even if you can't volunteer, show your support by "Liking" our Official Facebook Page!
———————————————————————————–
Stanford University:
*First 100 participants will receive FREE MILK TEA and a FREE T-SHIRT!!!
*Every participant will get a chance to win raffle prizes to Amazon, Target, and much more!
*There will be live performances! Don't miss out!
*Community service hours in the form of a certificate will be given to those that need them as well.
— — — — — — — — — — — — — — — — — — — — — — — —
→ Who?
Anyone and everyone is HIGHLY ENCOURAGED to come and participate in spreading awareness of the dangers of viral hepatitis and liver disease!
→ What?
Taking on and surpassing last year's Guinness World Records challenge of performing the "See No Evil, Hear No Evil, Speak No Evil" act on World Hepatitis Day with as many people as possible in collaboration with various cities across the nation and throughout the world. The act simply entails putting your hands on your eyes, ears, and mouth.
→ When?
Sunday, July 28, 2013
10:45 AM – 12:00 PM
→ Where?
White Memorial Plaza
Stanford University
→ Why?
Performing the "See No Evil, Hear No Evil, Speak No Evil" act shows the theme that hepatitis is being ignored around the world, and we are calling for that to change.
→ How?
Actively recruiting as many people to come out as possible! Help us achieve our goal of raising awareness of the dangers of viral hepatitis and be a part of the Guinness World Records!
— — — — — — — — — — — — — — — — — — — — — — — — — — —
Feel free to email collegiate@teamhbv.org with any questions! Visit and "Like" the official World Hepatitis Day Stanford Facebook page! Join the official Facebook event here.
———————————————————————————–
Boston:
World Hepatitis Day at Chinatown Park, July 28 @ 10 am – 12 pm
Event Information: Harvard, MIT, and Brown Team HBV Students, in partnership with Quest Diagnostics and MAP for Health, aim for a Guinness World Record to benefit viral Hepatitis awareness. Participants will receive vouchers for Hepatitis screening at no cost from event supporter Quest Diagnostics. The fair will also provide free t-shirts, healthy snacks, and the opportunity to help create a mural that will be donated to a local hospital or clinic.
What: Worldwide Guinness Book of World Records attempt to raise awareness about the prevalence of hepatitis and disease prevention—especially among Boston's Asian community. Free vouchers for Hepatitis screening, t-shirts, and healthy snacks will be provided.
When: Sunday, July 28, 2013 @ 10am – 12 pm (Eastern Time). Performance for the Guinness World Record starts at 11am.
Where: Chinatown Park on Rose Kennedy Greenway (located by the Chinatown Gate at the corner of Surface Road and Beach Street)
———————————————————————————–
 China:
The Stanford Asian Liver Center office in Beijing, China invites you to participate in their online photo wall for World Hepatitis Day on July 28th. For more information, please contact jadeinchina@163.com