Lynbrook High School, San Jose California
Co- President: Katherine S. Li
Co- President: Helen Sun
Secretary: Andrea Pan
Activities Coordinator: Alina Ying
Treasurer: Vivian Cheng
Webmaster/PR: Robert Yang
Email: katherine99li@gmail.com
hsun789@gmail.com
2015-16:
Freeze Mob
On a seemingly normal Saturday afternoon, we gathered in the busy Cupertino village. Our plan was to freeze in strange poses to attract attention. The team posed for five minutes while kneeling and pointing to the posters that had information about Hepatitis B. Bypassers cast glances of interest. Children eagerly received jade HBV wristbands. This was a great opportunity for us to spread the message about Hepatitis B!
Jade Bows
Every year, we have members create jade- colored hair bows to sell to our school. We were able to not only spread the purpose of Team HBV and support the Jade Ribbon Campaign, but also earn money for the cause.
Tag- B- It
This is a fun, annual activity we do. First, we attach messages about Hepatitis B to clothespins. The members then "tag" their friends by attaching the pins to their clothes or backpacks. In this way, we were able to reach many people about HBV.
Candy Cane Outreach
During the holiday season, we had members attach messages about HBV to candy canes. Then, members were able to spread love and information about HBV to their friends and family members.
2013-2014:
Informational Video (May 2014)
To help promote awareness about Hepatitis B, we created an narrated informational video with hand-drawn illustrations!
[kad_youtube url="https://www.youtube.com/watch?v=BJDKzBojzt0″ width=650 height=315 ]
Downtown San Jose Freeze Mob (February 2014)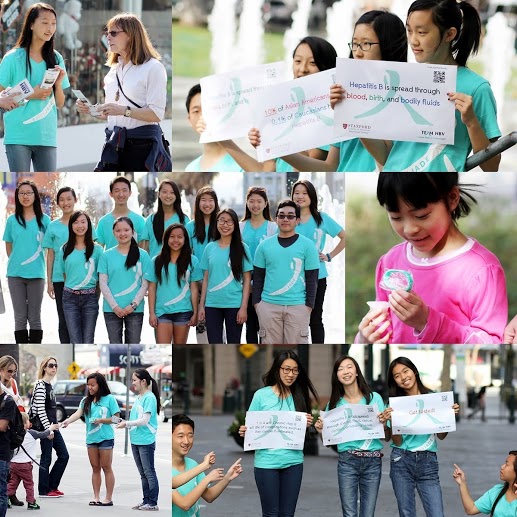 On a breezy afternoon in a small park located in the heart of San Jose, the Lynbrook chapter held one of its largest outreach events of the year–the HBV Freezemob–on Saturday, February 22nd. At exactly one o'clock, fourteen members decked out in jade shirts gathered around in a circle to discuss the day's outreach plan. The goal was to freeze in poses to attract attention of bypassers. Strange poses naturally attracted more attention, and the team was prepared to make the most bizarre poses the city has seen.
The team started off by posing for five minutes in front of a bakery and cafe on a busy alleyway. Members held curious facial expressions while kneeling and pointing to the posters that had information about Hepatitis B.  Bypassers cast glances of interest. Children eagerly received jade HBV wristbands. Even the diners at the cafe took notice and paused in their eating. Seniors strolled past and smiled at the new sight on the street. The five minutes passed slowly as members began to feel tired in their pose but remained determined to maintain their position until the timer rang.
The next pose was at the fountain in the park. HBVers lined the two sides of the steps leading down to the park's centerpiece, each holding a poster with facts about Hepatitis B. Two members also stood up front to hand out fliers and wristbands to people interested. Another five minutes passed before the team set out on a third pose, and continued this routine for the rest of the event.
With the passage of the afternoon, more and more people were attracted to the strange sight in downtown San Jose. The event came to an end after three hours of continuous posing. Although exhausted after the event, the team felt accomplished with the knowledge that the day's passer-bys are now more aware of Hepatitis B virus.
This is the second time Lynbrook Team HBV has successfully accomplished holding the freeze mob outreach event, and Team HBV hopes to hold another freeze mob next year!
Winter 2013 Newsletter: http://tinyurl.com/lynbrook-teamHBV-Dec13
Jade Hair Bows Fundraiser (December 2013)
The week before finals, we sold Jade Hair Bows to promote the Jade Ribbon Campaign. Sales were satisfactory, and many people like how the bows looked.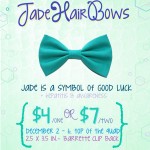 -B-It (September 2013)
On Monday, September 16th, our Lynbrook chapter launched its one of its first outreach events of the year: Tag B It. The purpose of the event was to raise awareness and understanding in the student body about HBV by spreading around facts in a lively way. Clothing pins with information about HBV were handed out to all club members, who then eagerly spread them around by "tagging" friends and classmates. These pins ended up on backpacks, lunchboxes, zippers, sleeves, and even the tips of noses! Tag B It was a fun and creative way to involve others who were not part of the club in spreading information about HBV. Some even tagged their siblings and family members who then passed the information out into the community. Altogether, Tag B It was a great way to kick-off the school year!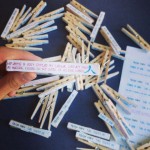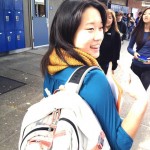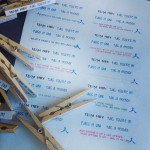 Club Day 2013 (September 6th, 2013)
Club Info Day, when school clubs publicize and recruit members, was very successful this year! We had set up a prize wheel which people could spin to earn pins, pens, stickers, and ninja tattoos. It attracted a lot of fellow students, who eagerly signed up to join our chapter.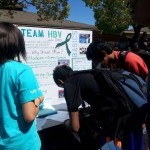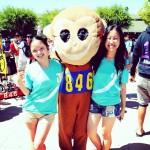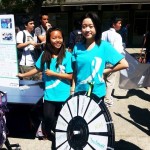 2012-2013 School Year:
First Newsletter! (June 1st,2013)
The Lynbrook Chapter is proud to announce the release of its own chapter newsletter! The Newsletter is designed to reach out to the community and tell others about what our chapter has been doing, and also inform people about current events about Hepatitis B. The Newsletter is completely produced by the chapter members and officers. Check it out below!
Newsletter Link: http://tinyurl.com/lynbrook-teamHBV-summer
Freeze Mob (May 18,2013)
Today the Lynbrook Team HBV and De Anza Team HBV chapters partnered in a freeze mob at the Cupertino Village plaza. We had around 20 volunteers at the event from both chapters. The 3-hour event was split into several freeze sessions, Q&A sessions, and breaks. We did 3 freeze formations in total, which included both formations in which everyone posed together at one location and a formation in which partners and groups of three spread out into different locations of the plaza to freeze. Each freeze session lasted 5 minutes in which we held up posters with HBV facts. In each Q&A session, we distributed flyers and wristbands to pedestrians. We all had a great time spreading awareness about HBV in our community and hope to do more outreach events like this in the future!
Sipatea Fundraiser (May 9,2013)
Last Thursday, we held a fundraiser at the Cupertino Sipatea/Pho Hoa Restaurant where we drank smoothies and ate noodles while mingling amongst ourselves. Many of our members also brought along friends to help fundraise and together we had a blast. 15% of purchases made with our flyer went towards our chapter. The money will be used to fund our future outreach events. All in all, the event was a huge success and we hope to hold more fundraisers such as this in the future! 🙂 Here is a collage of pictures from the event:
:
Virus Plushies Workshop (March 22, 2013 and March 29, 2013)
We had our first virus plushies workshops! We are planning to sell these plushies as a way to fundraise and spread awareness about HBV at school. Around 20 people came in total for the two days to help cut fabric, stuff the plushies, and sew it together. By working together, we were able to make around 25 plushies, both big and small!
First Meeting (Finally!)
After years of trying to get a Lynbrook chapter established, we finally did it by forming a committee under an existing club, APASL Club (Asian Pacific Students for Leadership). Our first meeting took place on Monday, March 4th during lunch where we served pizza as an incentive. Around 40 people came and we had them all sign up for a mailing list and Facebook group. At the meeting we did a quick Hepatitis B Virus overview and a trivia game afterwards (we gave pins, bracelets, pens, tattoos, etc. as prizes). We made sure to provide a summary of the events/activities to come, including a virus plushies workshop, freeze mob, etc.
Quick update: We now have 15 paid members, and 40 members overall. Our virus plushies workshop will be next week. We plan on selling them to fund-raise for clinic donations and club funds.
Here's to a fun remaining school year with Team HBV!