Lowell High School, San Francisco California
Co-Presidents: Maggie Cai and Michelle Ma
Vice President: Alyssa Lau
Secretary: Mylene Canosa
Treasurer: Mona Xu
Public Relations: Angela Pan
Email: michellema1223@gmail.com or maggiezcai@gmail.com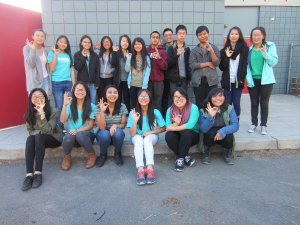 2015-2016:
Pandan Waffle Fundraiser
During our school fair, we set up a booth and made pandan waffles, which are green, in order to raise awareness.
Library Event
We went to a library nearby and passed out flyers which had information on it.
Catwalk booth
We set up a table and asked people to donate to show their support. They would then write their name on a ribbon and tape it on a poster.
2014-2015:
Fight Hepatitis B at Lowell
Spread awareness through pamphlets and asked for donations. Benefactors received pins and placed a post-it with a name on it to show solidarity.
2013-2014:
Co-Curriclar Sushi Sale
A fundraising event we did last year was when we sold sushi. When people bought some sushi, they were given a complimentary fortune cookie that had a hepatitis B fact inside instead of a conventional fortune. We were able to spread awareness of hepatitis B to wide array of individuals, so it was a success!
Library Outreach
An outreach event we did last year was when we held an informational table outside of the Merced library last year. We passed out pamphlets and small incentives such as bracelets and pens. Many people came to our table and learned about the importance and need for liver screenings and the severity of hepatitis B.
2012-2013:
Kermesse
Kermesse is basically a food fair that takes place once a year at Lowell High School. Although Kermesse is a day for celebrating the different cultures throughout the world, all clubs are welcome to sell food on that day. We sold Quickly's milk tea, but the milk tea quickly sold out. We only made $220 because of our limited supply. Now, we have a better estimate about how many milk teas we should order in order to maximize the profits.
Scavenger Hunt
To happen in October, Lowell High School & nearby neighborhoods
The school has given permission for our club to hold a scavenger hunt around the school. The Scavenger Hunt will be free of charge, and the winning team will receive a cash prize of $50. The goal of the scavenger hunt is to attract attention with the cash prize in order to inform more people about Hepatitis B. In addition, within the scavenger hunt, we have incorporated various pieces of Hepatitis B information in hopes that people will be more willing to listen about Hepatitis B while they're having fun. We expect a lot of participants due to the cash prize, so as a result of the scavenger hunt, more people will be more informed about Hep B.
Quickly's Fundraising Even (11/4/11, Lowell High School)
Since we just started the club this year, we didn't have any funding, so the club decided to sell Quickly's to raise money for future events. Because Quickly's milk tea is a popular drink, our sale attracted a lot of attention. Many of the club members' friends asked about the purpose of the club, which helped spread awareness of hepatitis B. We reached over 150 high school students and also partnered with student government.
Summary and Reflection
This semester has not been as successful as I hoped it would be, but considering that this is the club's first year, the club has made great progress. We have held a few fundraisers to earn money for future events and planned a scavenger hunt for next year. In addition, our club was featured in the yearbook. However, due to the number of furlough days and other holidays, the semester was much shorter than we anticipated. As a result, we never had the opportunity to hold the scavenger hunt even though our Student Body Council (SBC) approved of the event. For this semester, our greatest success was getting SBC to approve of our event because they are very strict about safety and other responsibilities. Next year, we will plan more activities and manage our timeline better. In addition, we hope to work together with neighboring schools' Team HBV to hold larger and better events.
— Tammy Ho, President 2011-2012