Davis Senior High School, Davis California
Co-President: Jana Sun
Co- President: Nicole Urayama
Secretary: Alene Lai
Publicity Coordinator: Miriam Lam
Email: jana.ln.sun@gmail.com or mikiura@gmail.com
2015-16:
Plushy Social
Created cute HBV plushy keychains as a club. Intended to use them to fundraise for the International OC and as an interesting way to draw attention to the cause.
Fall Farmer's Outreach Booth
Set up a booth at the Davis Farmers Market in November and talked with community members about HBV. Had plushies up for donations.
CNY Chinatown Parade
Small groups of members drove down on both Saturday and Sunday and helped run the ALC booth.
Fundraiser at Teabo
Fundraised at a local boba tea shop. Jeopardy – Invited school to play hepatitis B themed jeopardy during lunch.
H.S. Conference
A few members were able to attend the annual H.S. Conference at the ALC in the spring.
Fundraiser at Cultive
Fundraised at a local frozen yogurt shop.
2014-2015:
Farmer's Market Outreach 2015 (02/21/15)
Our chapter reserved a spot at the weekly Farmers Market where we reached out to the Davis community and talked to those who stopped at our booth about the health implications and preventative measures of HBV.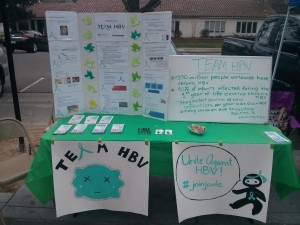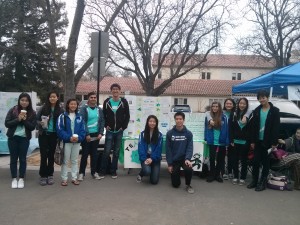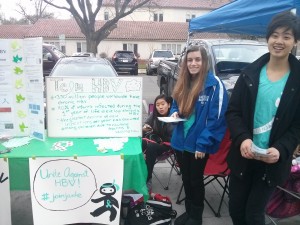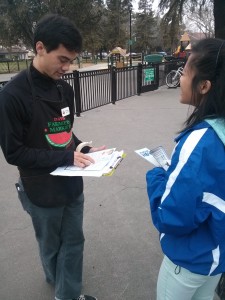 Club Fair (November 2014)
On November 4th, our chapter participated in the Club Fair hosted by the Davis High student government. The event was very successful, many students stopped by our booth to read the posters about HBV and ask questions. Members were able to explain the purpose of our club to numerous students and teachers. Students who were interested had a chance to join the club.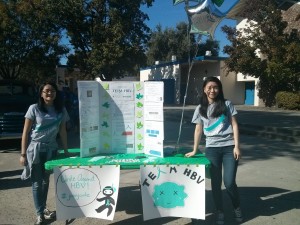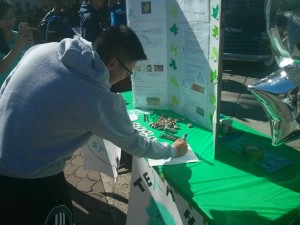 2013-2014:
Team HBV Froyo Fundraiser:
We collaborated with local frozen yogurt place, Cultive. Members brought in Team HBV flyers for the fundraiser, and 50% of the proceeds went towards our club.
Farmers Market Outreach:
Team HBV reserved a spot at the weekly Farmers Market where we propped up posters with facts of HBV. We also passed out flyers and various pamphlets regarding HBV to pedestrians. For those that stopped by our booth, we gave them a presentation about hepatitis B and its health implications for the community.
Guest Speaker – Dr. Henry Mok:
Dr. Henry Mok, a famous Sacramento-area Gastroenterologist, presented and led a discussion on liver cirrhosis. We also played a Team HBV edition of "Who Wants to be a Millionaire" among club members.
Health Fair in Stockton:
We hosted a health fair for the members of the Stockton Buddhist Temple, where we raised awareness of hepatitis B through presentations and set up poster boards.
Chinese New Year Parade:
We had a booth during the Chinese New Year Festival, and passed out surveys and coordinated games about hepatitis b with pedestrians.