Amador Valley High School

Amador Valley High School, Pleasanton California
President: Emily Lin
Vice President: Andrew Yeung
Secretary: Michelle Zhang
Treasurer: Susan Chen
Community Outreach Chair: Caroline Zha
Fundraising Chair: Julie Chew
2015
March Boba Fundraiser
Our first major fundraiser comprised of selling boba milk tea at school at lunch, provided by Tea Breeze. We purchased 75 drinks, and sold out very quickly. Many people volunteered to help hand out drinks, straws, collect money, etc. Considering the success of this fundraiser, selling boba is certainly going on our list for future fundraisers as well. We succeeded in our fundraising efforts, raising a total of $112.50 in profit. It was extremely exciting to see that in the short time that we started our club, we had already raised so much money for the HBV initiative.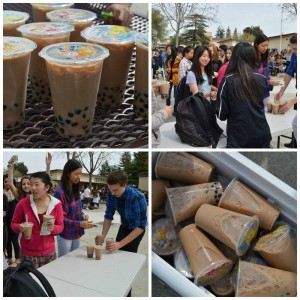 March Health Quest Fair
In addition, we got the opportunity to participate in the health fair hosted by AVHS. The 2015 Health Quest was held on March 26. Every other year, the health and bioscience academy at Amador organizes this health fair to provide AVHS students with an amazing learning opportunity. Team HBV was thrilled to have been a part of something so great and successful, as we were able to connect with a larger audience in spreading awareness with regards to HBV.