Dougherty Valley High School
Dougherty Valley High School, San Ramon CA
President: Katie Wong
Vice President: Jennifer Choi
Treasurer: Gorang Gupta
Secretary/Webmaster: Natalie Man
Email: katiew513@gmail.com
2015-2016:
Bow Fundraiser
Had a day where we got together at an officer's house to make bows, then we sold those bows at Dougherty Valley and Foothill High School
Savers Fundraiser
We got many clothes donations from students at our school and sold them for money at the local Savers store. We raised a little more than $100.
A Point in Time Gala
Some members of our chapter were in outreach committees and helped host the A Point in Time gala; Many of our members attended the A Point in Time Gala
2013-2014:
Boba Milk Tea Fundraiser
We sold milk tea after school in front of the bookkeeper's office. We have done this many times before and it has made a significant profit.
Hairbow Fundraiser
We handmade jade hair bows using fabric, fabric scissors, and hot glue guns. It took about 3 hours to make around 50 bows. Then we sold them after school and made a considerable profit for the cause.
Culturefest
DVHS does this every year. This is an event where people of different cultures can experience other culture's customs and traditions. DVHS Team HBV participated and educated fellow students about the importance of hepatitis B awareness.
2012 – 2013:
Ulfrets Center Booth (December 17th, 2012)
A table was set up in front of the escalators at Ulferts Center 5:00-7:00PM. The table consisted of a laptop with a picture slideshow of HBV pictures, a spinning wheel for prizes, a poster describing Team HBV, and a donations jar. Six people were gathered to distribute flyers to people that passed by. Approximately thirty-forty flyers were handed out, which demonstrates a good improvement from last year. This year, with the addition of the donations jar, we raised approximately $20-30.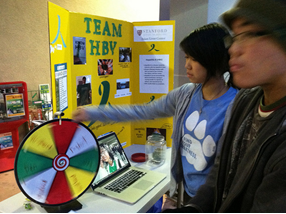 Chinese New Year Festival Booth  (February 24th, 2013)
The Chinese New Year Festival Booth involved the DVHS Team HBV setting up a booth at the festival filled with games, prizes, pamphlets and enthusiastic volunteers working to spread awareness about HBV and the importance of getting screened. At the site, around ten volunteers were present and many different attractions such as a poster were set up. The success level of the event was high since the overall attendce level to the festival and the booth was high (around 70+ people) Next year, we want to advertise this event for a longer duration of time. Also we might want to think about adding extra activities and posters to more effectively spread awareness.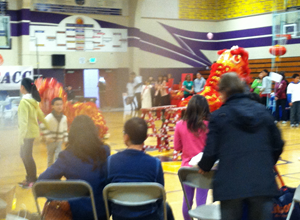 Bubble Milk Tea Sale (December 21st, 2012)
The bubble milk tea sale was a fundraiser effort made towards growing funds for future DVHS Team HBV outreach activities. The milk tea sale involved around five of our club members volunteering to sell, transport and advertise the sale. The milk tea was sold to the DVHS students and staff members after school. All of the bubble milk tea (100) was sold out indicating a level of high success. Next time, we want to hold the milk tea sales during the summer so it draws more attention. Furthermore, we want to advertise at least 2 weeks beforehand so many people know about it.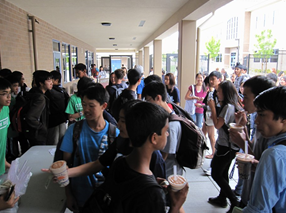 Teach a Teacher (December 11th, 2012)
Teach a Teacher was an event which allowed for students to use there creative abilities to teach one of their own teachers in school about HBV. These students were provided with cookies and pamphlets as well as some other prizes to give to the teachers who successfully learned key important facts about HBV. The success rate of this event was very high since it was conducted during lunch and allowed for almost all our students to participate (around 30-40). This meant that 30-40 teachers were also educated on Hepatitis b. Next time we want to gather better prizes and also provide our members with an award for being so productive.
DVHS Team HBV Art Contest (March 1st, 2013 – April 5th, 2013)
The DVHS Team HBV Art Contest was made so the more creative souls could use their artistic talents to depict the importance of screening for HBV. Several posters were created in order to advertise this event and prize awards were created to provide a good incentive.  The success of this event was not as great as expected since we had around 12 submissions. Next year we hope to advertise this art contest even further. We also want to make the prompts more specific.
Overall Summary and Reflection
I would say that the 2012-2013 school year was the best year so far for the DVHS Team HBV chapter. We were able to conduct several events (over 5), and we really established ourselves in the school as a large and productive club. Not only that, we were able to do a lot of community and school wide impactful outreach events. Personally, my favorite event was the Ulfrets event because our club members had such a good time and it was evident that the children and the parents that came to see our booth were sincerely interested in what we had to share. Finally, for next year I hope to do more club enriching activities such as more bonding events within my own club and continue to increase the number of events we do.
– Sonia Wang, President
2011 – 2012:
Milk Tea Sales (March 2, 2012 & March 30th, 2012)
Our school sold milk tea after school and reached almost all the students at our high school, educating them about hepatitis B facts as they were waiting in line and buying milk tea; this also helped us raise funds for future events.
Team HBV Outreach Celebration (April 5th, 2012)
During the week before spring break, our club held a "party" in our advisor's room in order to encourage non-members to attend and restore motivation to our team members. This also increased hype about our club and helped gain more members.
Goodbye Mark Campaign (June 6th, 2012)
As part of the national campaign for awareness about hepatitis B, Team HBV at Dougherty Valley High School helped spread the word about Dr. Mark, a doctor who died of HBV, by posting posters around local businesses. These posters contained a QR code that linked to goodbyemark.com, a website with more information about hepatitis B and Dr. Mark.
ALC Organized Chinese New Year Booth (February 11th, 2012)
DVHS Team HBV encouraged its members to participate in the Asian Liver Center's annual Chinese New Year outreach booth. Six members with knowledge of multiple languages were able to attend and volunteer at the event.
Overall Summary and Reflection
"Although our club had slightly less events for the spring semester, with AP testing season and multiple school recesses, I believe that most of our goals were met and that we have maintained our reputation as a large and active body of motivated volunteers excited to help the hepatitis B cause. Future plans would involve gaining more members at club day next year and transitioning to a better organized hierarchy that would allow for an increased level of participation in the organizing of outreach events".
— Colin Man, President