"Spreading awareness of Hepatitis-B since 2013"
[box]
[typography font="Lobster" size="24″ size_format="px"]Welcome to Team HBV at UC Riverside![/typography]
[/box]
Hepatitis B Awareness Week!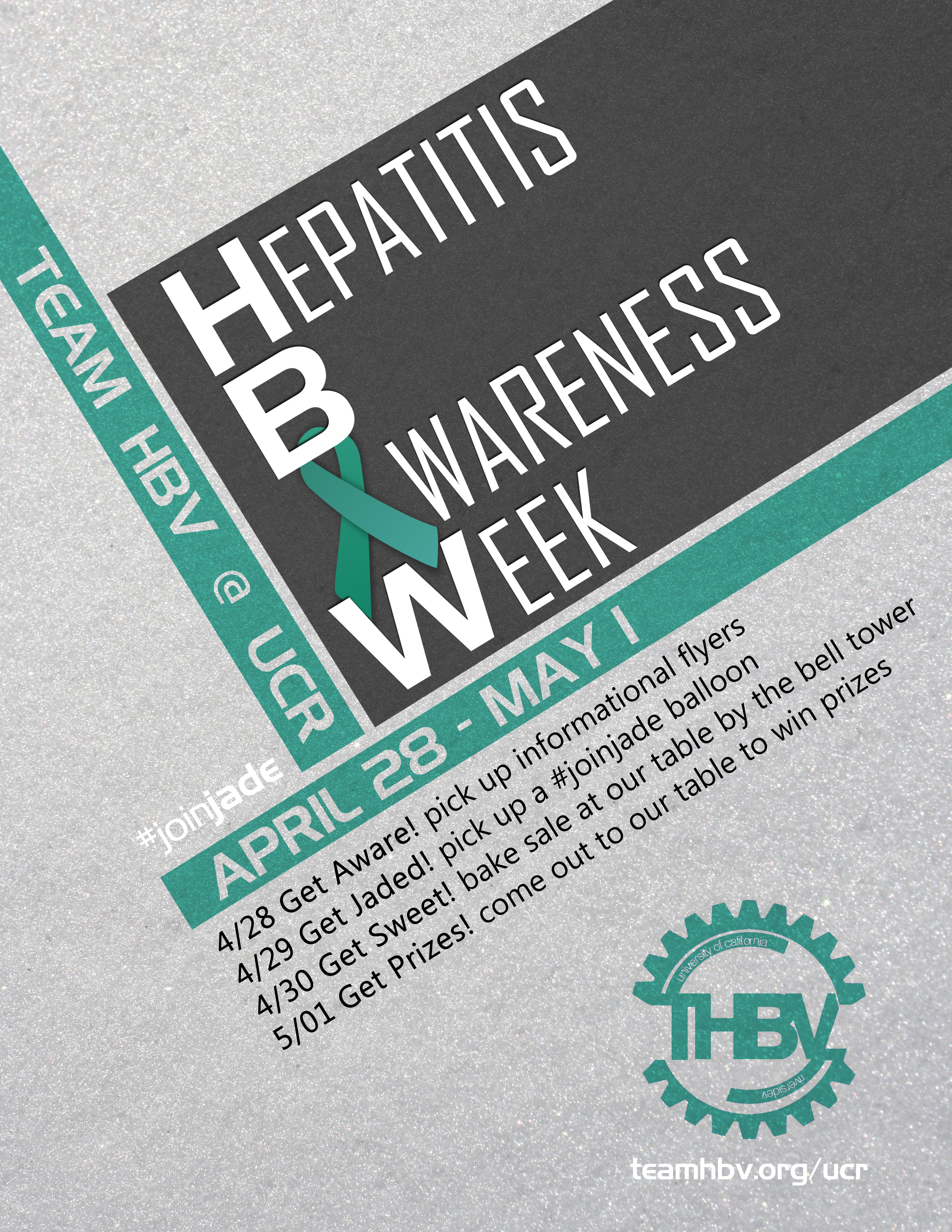 Spring 2014 General Meeting!
Join us for our spring general meeting to find out more about our organization, and learn what you can do to help keep communities informed of Hepatitis-B. For any questions, please contact at ucr@teamhbv.org

Upcoming Events



04/24/14 – First General Meeting
04/28 – 05/01/14 –

Hepatitis B Awareness Week
Committee Application
Join a committee to further develop your leadership skills and contribute new ideas! To learn more about the responsibilities of each committee, Click here!
Click here to download an application to be a part of the TeamHBV Leadership Committee and email your completed application to ucr@teamhbv.org by 11:59 PM 03/10/13!
2013-2014 Board Members
Interested in joining our team to help spread awareness of Hepatitis-B? Feel free to email any of the board members to learn what you can do to help!
Christopher Nguyen | Co-Chair
B.S. Biochemistry | Class of 2014
University of California, Riverside
Likes: Grinding jalapenos to create homemade sriracha
Dislikes: Underwater basket weaving majors
Email: cnguy067@ucr.edu

Rosemariae Dang | Co-Chair
B.S. Biology | Class of 2014
University of California, Riverside
Likes:
Dislikes:
Email:
Carla Chen | VP of Membership
B.A. Media and Cultural Studies | Class of 2015
University of California, Riverside
Likes: Hello Kitty
Dislikes: bad grades 🙁
Email: carlamtchen@gmail.com
Jasmine Kuo | VP of Community Outreach
B.S. Biological Sciences | Class of 2015
University of California, Riverside
Likes: Patio chairs
Dislikes: Taro mochi
Email: jasmineykuo@gmail.com
Jason (Jae) Lee | VP of Campus Outreach
B.S. Biological Sciences | Class of 2016
University of California, Riverside
Likes: Young money
Dislikes: The Great Gatsby
Email: jlee299@ucr.edu
Edward Park | VP of Finance
B.S. Biology | Class of 2016
University of California, Riverside
Likes:
Dislikes:
Email:
Ashley Evangelista | VP of Technology
B.S. Biological Sciences | Class of 2014
University of California, Riverside
Likes: Ice cream and coffee
Dislikes: Hot weather
Email: levan006@ucr.edu
[twitter style="vertical" url="http://twitter.com/TeamHBVatUCR" float="left"]
[fblike url="http://www.facebook.com/TeamHBVatUCR" style="standard" showfaces="false" width="450″ verb="like" font="arial"]